9-Month Smart CD: Now 5.00% APY*
Enjoy a high Annual Percentage Yield coupled with the added benefit of a superior GSB checking account!
See Our Latest Offers
GSB: Better Lending Solutions from a CT community bank.
Experience the confidence of having a truly local lending partner. The GSB Lending Center is here for you - whether you're a First Time Homebuyer or looking a for a lender with a full portfolio of financial and banking options.
START TODAY
6-Month Business CD: 4.75% APY*
Jump on this short-term CD and get a great Annual Percentage Yield along with the great rate for your Business Checking account!
Learn More
How Can Our Community Bank Help You?
Personal Checking
Personal Savings
Personal Financing
Home Lending
Commercial Real Estate Loans
Business Checking
Business Savings
Term Loans
Personal Checking
Personal Savings
Personal Financing
Home Lending
Commercial Real Estate Loans
Business Checking
Business Savings
Term Loans
Hear How We support business owners like you
Victor Cassella
President, American Polyfilm, Inc.
Branford-based American Polyfilm, Inc. is a fixture in the polyurethane manufacturing industry, and when they were ready to finance a new building, they reached out to GSB for help. Hear why they chose to work with us in this video: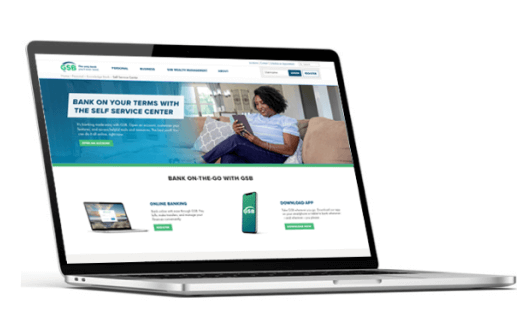 Convenience is just a tap, click, or call away
Banking has never been more convenient. Open an account, add new accounts, explore new services or features, speak to someone who can help, or access a variety of helpful financial tools and resources to make the most of your money. Best of all, you can do it right now – online or on your phone.
Self Service Center
Access GSB from wherever you are
GSB allows you to view statements, pay bills (or friends), transfer and wire funds, and manage everyday transactions from anywhere, any time. Enjoy real-time information with our easy-to-use digital banking software.
Learn more about online banking
The Latest GSB News
Learn from our banking experts on thought leadership, discover new strategies, and streamline decision-making with our constantly updated articles, tips, how-to's, and other resources.
View All
MAKE THE SWITCH TO GSB
At GSB, our commitment to local Connecticut communities, experience, expertise, and full suite of straightforward to sophisticated digital banking services give you the tools you need to meet your personal and business financial goals. Make the switch to GSB for better banking.